I am here with my March Favourites, overdone I know. But I can't help but love the products I'm going to show you day and just wanted to share. So, here we go...
Rimmel Scandaleyes Mascara- £2.50
1. The first object on my March favorites list is my Rimel Scandaleyes Mascara. This has been a permanent friend of mine since I received it for Christmas two years ago and I've had to buy a new one more than I'd like to say. I feel it really gives my lashes volume and that it's easy to apply, although it does clump quite easily (although that might just be the way I'm applying it).
Left-Right: Frangipani and Citrus, Lavender and Olive Leaf, Lemon Verbena
2. Secondly, I've had these perfume oils for a few years now but only recently rediscovered them at the back of a box in my wardrobe. They come in three gorgeous scents (my favourite is the Lavender) but they don't offer much of a change to your scent, they're more of an add on. Unfortunately, I'm not sure if you can these from anywhere else, but if you can, they're worth buying.
Topshop Nails: Parma Violet- £5
3. I bought this nail varnish recently on the basis of other bloggers reviews (Check out Zoella's
here
). They all raved on and I have to admit I was impressed with the colour and quality of the finished nail. My only criticism, I felt that my first layer was very watery, and I had to put on quite a few coats to make the nail look good enough.
Herbal Essences Shampoo and Conditioner Dazzling Shine for Normal Hair- £7.98 (combined total) from Boots
4. My hair had been going through a weird stage recently, all my roots were going very greasy even though nothing in my routine had changed and no matter how recently I had showered. So I changed my shampoo and conditioner, and the problem has completely gone. Not only do I love this shampoo for making my hair so much nicer but I also love its citrus scent.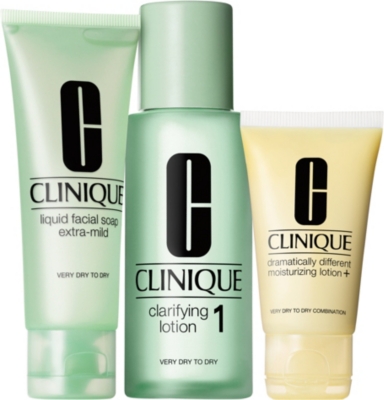 Clinique 3 Step Introduction set: Type 1- £20
5. Every time I see the price on this I inwardly cringe. Because I notoriously do not stick to skincare routines, or I react really badly to them (Damn sensitive skin) but this one actually works, my skin feels great, I don't have any spots. And yet, at the moment, it is well out of my price range. I guess I have some bribing of the parents to do. But this is amazing, and you can buy trial packs, and do a test online to find out which skin type you are if you are unsure.
I hope you liked some of the products I chose, sorry about the quality it's the first ever post like this I've done.
Charlotte.
X